https://www.famitsu.com/news/201011/20036051.html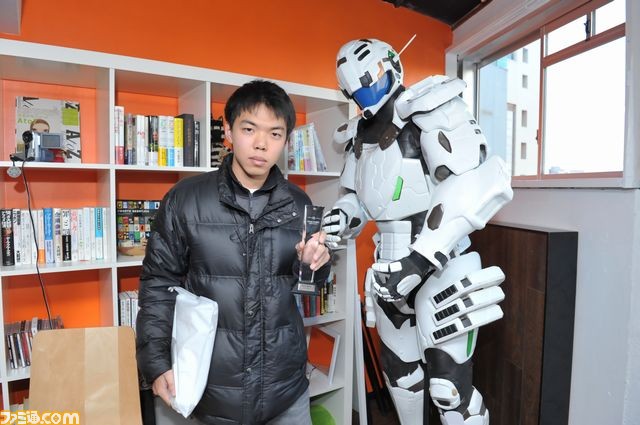 Managed to translate most of the important bits, one sentence - seen as being striked through - was hard to translate.
VANQUISH  Who is the fastest man? "Extreme VANQUISH Battle match" Competition
Sega's action shooting VANQUISH tournament "Extreme VANQUISH Battle match" was held in Tokyo.

2010-11-20

On 20th November 2010, the Sega action-shooter VANQUISH tournament "Extreme VANQUISH Battle match" was held in Tokyo. Nine top ranked of players of the previous "Extreme VANQUISH" and "Extreme VANQUISH 2" competition gathered to compete for the fastest time of "TACTICAL CHALLENGES" mode.

The competition divided nine players into three groups, the top of each group will face off in the final. Producer Atsushi Inaba of Platinum who appeared as commentator and said, "How to defeat the enemy without fighting properly". Strategy is important not only for accuracy but also how to defeat the enemy using the various actions.

In the competition each game was played using TACTICAL CHALLENGE 1 but in order to aim for the fastest time it was necessary not to take cover but actively fight. Nerves where high, one player that cleared a stage was dropped in the second game, and even though it was a top ranker he could not clear both. It was clear as day how much each player was exhausted after each match.

In between matches, Mr. Inaba quickly closed the hole every time a programmer who was in charge of the enemy character Bogey knocked down and knocked down inside the team was found (Mr. Inaba "I am stubborn. I wish I could leave it for a moment. ") A little episode was also shown. They also noted that TACTICAL CHALLENGE 6 has been cleared only by one member of the development team and they added by saying "respect to any person that cleared it".

The finalists were Mr. Inaba himself, TELL and Tomonori, all having thought through nine matches to come this far. They played TACTICAL CHALLENGE 2 at the same time for the finale. TELL apparently had more experience in this stage, but would that be enough? TELL, who had a personal record on the stage of less than 3 minutes, won the championship with time of 3 minutes and 29 seconds.

"It was fun sweating," said Mr. Inaba looking back, the tournament full of tension. There were also players who had tears in one way or enough, as players were forced to change setup due to equipment trouble so if there is a next competition please definitely improve on this!